Pengey Penguin and Friends

The Best Snuggle-Time Read-Aloud Books on the Planet TM

Everything you need to know about e-books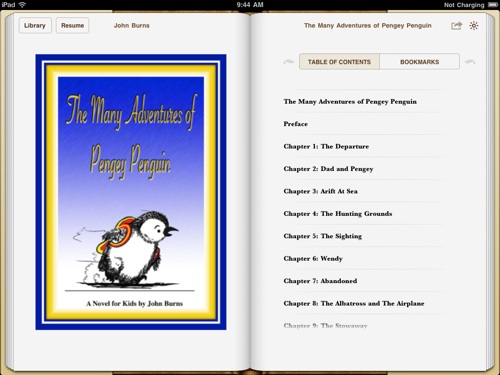 • E-books look like paper books, you even turn the pages. You bookmark pages with a single touch. They are                surprisingly easy to use.

• E-Readers or the software that turns your computer into an e-reader can read books, magazines, newspapers, anything with an e format

• You select the size of the text. Text sizing is instant and can be set back to default just as fast. Text, Text or Text the choice is yours.

• You do not have to purchase an e-book reader to read e-books. Your computer can read any e-book with the software and the software is free.

• Have a PC? To read the MOBI file (for Kindle) on your computer, we recommend that you download Kindle for PC, Kindle for the Mac.

• If you have a MAC -- Click on EPUB file (for iPad, Nook, and Sony Reader) on your computer, we recommend that you download Sony Reader Software.

• If you have an e-reader or are thinking of getting one, it already has all of the software to read anything formatted for e-reading.

• Pengey One is $9.99 at most retailers, $7.99 on Amazon. There is no shipping charge, no handling charge, no sales tax, and you have it instantly.• You save $12.91 over the cost of a hardbound paper copy.

• You can buy a copy and send it to any e-mail address in the world, there is no additional charge for that service. No Import Duty.

• If you want to go paperless - go green you'll have your e-book the instant you want it. Makes a great gift for a child or an adult with an I-Pad, Nook or Kindle


GET A FREE PENGEY ONE E-BOOK WHEN YOU ORDER OVER $50

You hear it right. Just Click on this text and if your e-mail address matches

the one on the order your copy will be in you hands the same day.

About Pengey's New E-book "Pengey One"

by Carol Foster

President San Francisco Story Works

The popular, Adventures of Pengey Penguin has been completely rewritten. What was 197 pages action and

adventure is now 207 pages. It's a fuller more complete story and includes three never before seen illustrations.

Since Pengey was released ,the idea of improving the whole experience of Pengey's Many Adventurescame to mind. I kept meticulous notes. Durning this last year, when I decided release the e-book, I engaged a new editor and we set to work to bring your child's journey with Pengey an even more satisfying experience.

I'm happy to say that the rewrite was completed without altering the personalities of the characters or the innocence or excitement of the storyline. If anything has changes it is that there's is a certain feeling of urgency that is more pronounced. At times there is that feeling that the characters may not make it. Their personalities are more clearly defined. The dialogue is more crisp and the situations tend to creep up on the reader with silent and often false sense of security. It is far a better read but I'm not about to give away the surprises.

Pengey's e-book is not sold on Pengey.com. Here's a partial list of e-book sellers, who will deliver our first e-book to your computer or reading device within seconds of your purchase anywhere in the world.

All e-book seller carry Pengey's adventures.

AMAZON  -- APPLE I-Book -- BARNES and NOBLE

Pengey.com sells first edition library quality, hardbound copies of Pengey's Adventures. They are available in our bookstore. Don't forget to ask for my autograph.

Thanks for dropping in, and Enjoy the Journey.

John Burns, Author

Pengey Penguin, Head Penguin 


Pengey.com

Home of: The Best Snuggle-Time Read-Aloud Books on the Planet. ®

Pengey the Penguin® is a  Registered Trademark -- name and character images are registered in the United States Patent and Trademark Office. All images and text displayed in this web site are copyrighted and are the exclusive property of San Francisco Story Works and its owners. All copyright information on file with the U.S. Library of Congress. All trademark classifications are on file with the USPTO. All rights reserved world wide. ® © 2005 - 2013